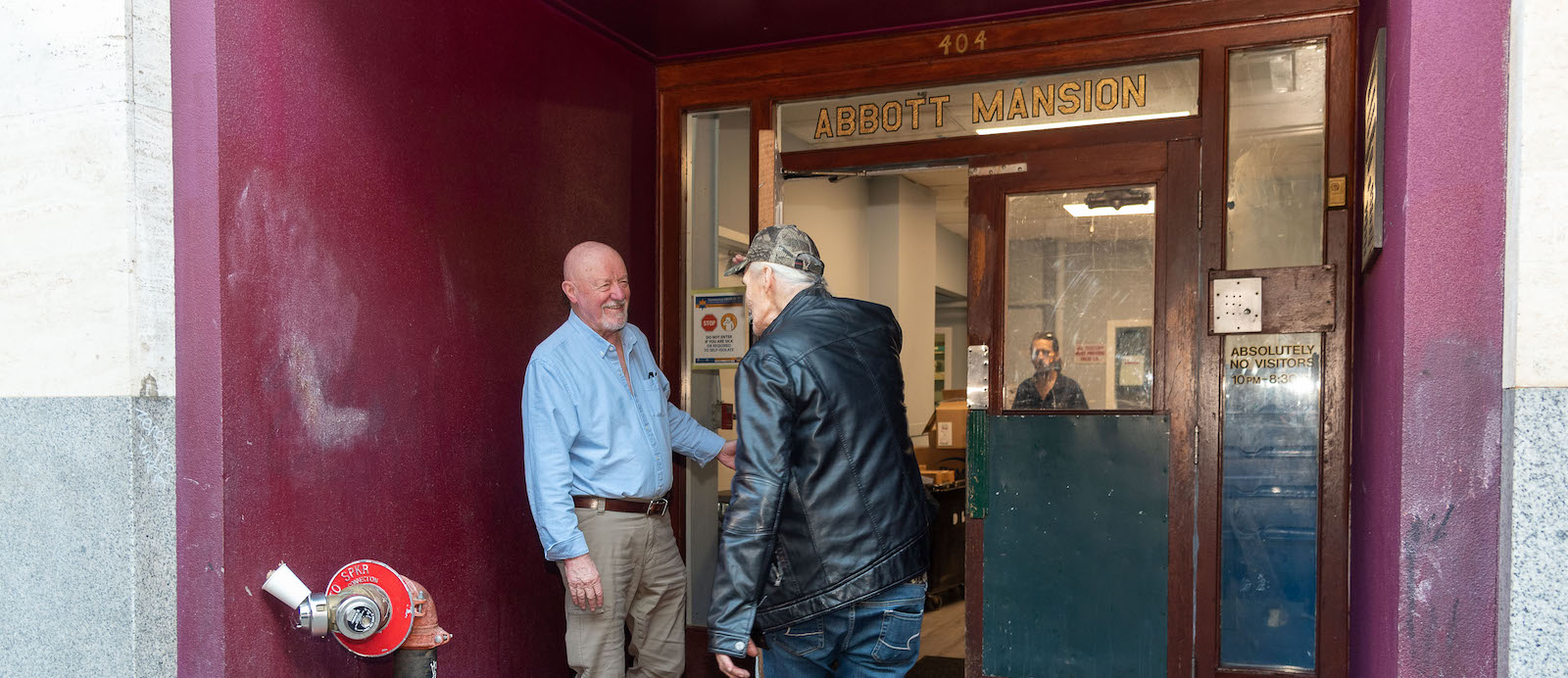 Change Can Happen. Episode #5: Reimagining housing for our inner city
A multi-part series produced by Central City Foundation, "Change Can Happen" explores community-led programs, initiatives and ideas from our inner city that are helping to build a resilient, caring and inclusive community where it is possible for all people to overcome injustice, participate and thrive.
Central City Foundation has been providing safe, clean and affordable housing in our inner city since 1910. While there have always been neighbours in need of help, throughout the last few years, we have witnessed a profound and disturbing deterioration in the living conditions people experience in the Downtown Eastside and the broader inner city. As a result, our evolving approach to inner city housing puts greater emphasis on encouraging community connections and a sense of belonging.
The COVID-19 pandemic left many suffering from isolation as health orders impacted supports and programs that continue to be hindered. There is also an ongoing opioid crisis and an increase in gender-based violence. There is also a shortage of work and income-earning opportunities. Overall, we can clearly see that people in the inner city are struggling with deepening poverty.
One of the most significant challenges people in our inner city face is the desperate shortage of affordable housing solutions. There are simply too few places to live for people who are experiencing poverty. What's worse, being homeless or under-housed negatively impacts every aspect of an individual's life. When you have nowhere to sleep, every other challenge someone faces is significantly compounded. When you have to spend your time looking for a place to lay your head, any goals you might have are necessarily set aside. When you have nowhere to call home, it's almost impossible to move forward in your life.
It's time to try something different
While government, non-profits and the private sector will all need to play a key role, as an independent non-profit that owns social purpose real estate, Central City Foundation is uniquely positioned to reimagine housing solutions for our inner city. As a result, in 2022, Central City Foundation took the bold step to operationalize our housing society and begin operating our housing to better meet our goals and mission. We believe housing is an essential building block of connection and belonging for our community. In almost every case, before someone can pursue personal goals, build connections and participate in community, they must have a place to live. We continue to operate our housing without government funding. Despite the significant financial challenges, our independence provides the flexibility needed to innovate as we evolve our housing models for the inner city.
We're not just sheltering folks, we're building community
For over 100 years, Central City Foundation has helped those with low incomes or other barriers to access safe, clean and affordable housing. However, we have come to believe the current conditions in our inner city require a more substantive, wrap-around solution. We understand that people in our inner city need to feel a sense of connection and belonging in order to move forward and improve their lives. They don't just need to be sheltered from the elements. They need to have a secure, stable, permanent home. This is why we are evolving our approach to inner-city housing solutions.
For instance, we're piloting programs like the Cosmo Woman's Transitional Housing Program. With this program, we hope to break down the silos between the housing sector and community-based support services to allow women to build a robust and portable network of supports and services on their journey from homelessness to permanent housing.
We also seek to address emerging needs for housing in the inner city. This includes such programs as workforce housing for people who are employed by local social enterprises or enrolled in employment development programs but are still homeless or living in shelters.
Central City Foundation has also initiated work to redevelop our properties to replace single room accommodation units (which typically have shared bathrooms) with self-contained suites. We are also working to ensure that we are building for a future that includes everyone and moves us further along on our journey of truth, justice and reconciliation with Indigenous peoples.
How you can help
These innovative housing solutions are only possible through the support of Central City Foundation donors. When you make a gift to Central City Foundation, you're supporting community-led housing solutions for people in our inner city. We are committed to keeping our rents at the lowest shelter rate, but this means we must fundraise the difference in operating costs for each building – the costs for heat and electricity but also for the essential staff to ensure safety, offer opportunities for engagement and connect folks with the community supports. Please click the donate button and make a donation to Central City Foundation today. When you do this, you are supporting community-led solutions.