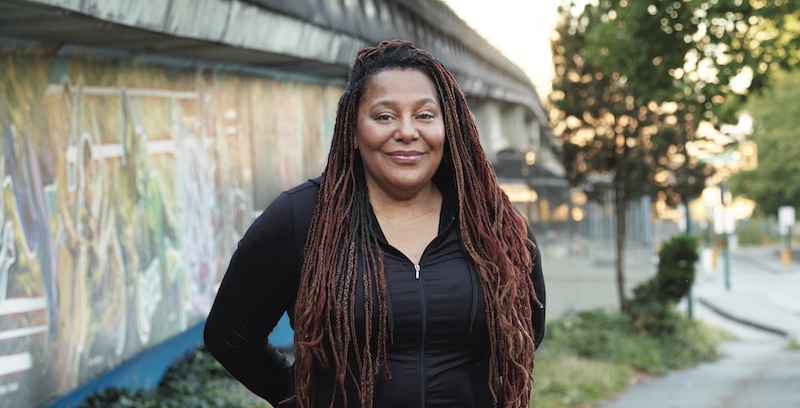 Change Can Happen. Profiles in community leadership: Angela Marie MacDougall
Leadership comes in many forms and often goes unrecognized in our community. That's why Central City Foundation is celebrating eight examples of extraordinary community leadership. We are highlighting the dedication and determination of those whose support for community-led solutions helped people in our inner city and beyond to improve the conditions of their lives during the COVID-19 pandemic. As part of this celebration, we have asked each of our profiled leaders to share with us their thoughts on leadership, community, and their relationship with Central City Foundation.
Angela Marie MacDougall, Executive Director, Battered Women's Support Services
Central City Foundation is celebrating Angela because she acted immediately to reorganize services and programs when she realized the COVID-19 pandemic would present new and immediate threats to the health and safety of women and girls in our community. She was the first to raise the alarm about the increase in gender-based violence and took quick action to ensure 24-hour support for women. She has been a strong leader and unflinching advocate raising awareness and creating change to address gender-based violence and systemic racism both at the local and national levels. Her steadfast and determined leadership has influenced all stakeholders to come to the table to create policy changes and increase funding to address racism and gender-based violence from an intersectional feminist decolonizing approach in our community – increasing safety for women and girls.
Q: How does your organization help address the challenging conditions faced by people in the community?
"BWSS exists to end violence against women and gender-based violence. For the past 40 years, our primary strategies involve providing victims, survivors and their allies with the information, resources, connection, and organizing strategies needed to come together to advance substantial individual safety, stronger communities, social change toward ultimately to end violence. Core to the effort is designing organizational and structural support for battered women, victims and survivors to come together to act on their own behalf together through support groups."
Q: How did the health orders associated with the COVID-19 pandemic create further challenges for people in the community?
"Violence has generally been found to increase in the face of pandemics because despite being a global phenomenon, it is highly underreported due to stigma and social pressures. COVID-19 has not only led to an increase in the cases of gender-based violence but has disconnected victims and survivors from their support networks."
"While under quarantine, women individually are in close proximity to their abusive partners with limited to no freedom to go out, thus leading to an increase in gender violence at home. During quarantine, as more women were in informal jobs and were laid off, this contributed to experiencing a greater impact as they became economically dependent on their male partners. The increased economic dependence not only increased their risk of gender-based violence but also makes it difficult to leave their abusive partners."
"Reflecting a year or so later, COVID-19 seems to be similar to the pandemics in the past which have resulted in an increase in cases of domestic violence. COVID-19 has also disconnected victims and survivors from their support networks."
Q: In response to COVID-19 health orders, how did your organization pivot or alter your programs or services?
"Rather than scale down services, we opted to run into the burning building by scaling up our services. By the end of March 2020, we operated 24/7. Our crisis line was available 24/7 province-wide, with calls coming from across Canada and internationally."
"We engaged with private hotel owner/operators to secure an entire floor of hotel rooms to assist with gaps in service and providing residential support services and supported 27 women and their children. Between April 1, 2020 to March 31, 2021 we supported 1,656 to get and stay free from violence. In 2020, we received 32,000 requests for service, up from 18,000 the previous year."
"We also undertook a broad-based media and social media strategy to get the word out to survivors, friends, family, neighbours, community-based organizations. We really emphasized the role of the media to raise awareness about the practices that can replace the conventional in-person support – crisis line, bystander approaches, that neighbours of families with violence can also help to reduce domestic violence by initiating conversation with survivors and providing ways to initiate conversations. We amplified the call for increases in service availability and funding for protection needs, shelters, transition houses during quarantine and beyond."
"We also made continuous and rigorous efforts toward putting an end to the stigma associated with gender-based violence."
Q: In what ways has your work changed in these past 18 months?
"It's harder for a few reasons. COVID has added to the heaviness of the work in a new way. It has added another layer of concern to manage and also taken its toll on staff. It has brought more isolation and grief to the work and to anyone on the frontline who has dealt with these things personally too. It has brought more work to be done and we've had the extra pressure of adapting to the new way of delivering services. And the hurt in community feels deeper now. Not having access to community ceremonies, traditional healing and gatherings has added to this dynamic."
Q: How would you describe the importance of lived experience among those facilitating programs?
"We exist for victims and survivors therefore victims and survivors inform every aspect of what we do, from women who access services, our volunteers, staff, leadership team, board of directors and our communities at large. We measure our impact by the strength of our programs on leadership development and the community response to domestic violence, changes in the educational, housing, job, criminal legal systems, and social service institutions which condone or encourage patriarchal violence keep women trapped in the cycle of abusive relationships and vulnerable to sexualized violence."
Q: How would you describe the importance of your organization's direct experience working with community members in addressing their emergent needs during COVID-19?

"Our work is designed to strengthen the communities we represent, live, and serve and seek to strengthen bonds. Social change grows out of people understanding themselves to be interdependent, sharing common needs, goals, and interests. Our work under COVID is laser focused to expand services while at the same time we continue to work for social change to build a society in which our institutions and organizations are equitable and just and all people are safe, adequately fed, adequately housed, well educated, able to work at safe, decent jobs, and able to participate in the decisions that affect their lives."
"We have tapped into the groundswell of support for reform of violence against women and gender-based violence response systems in light of anti-Black and anti-Indigenous racism, ableism, transphobia, and the issues facing those in Canada's most violently affected and least served communities. This desire for re-examination and reform includes, perhaps most especially, a reconsideration of the role of policing in violence against women and gender-based violence response toward a redistributive community investment."
"Our success and stories from the frontline reflect how women survived, thrived, became leaders, educators, and organizers and how communities of people came together to understand patriarchal violence, develop strategies, and leverage our collective power. Our work occurs in an extremely polarized and unequal economic hierarchy, and in an increasingly segregated and racially polarized society. We continue to analyze the effects of our work on communities at the bottom of the social stratification to see if it contributes to perpetuating inequality or to promoting social justice."
Q: What has support from Central City Foundation meant for your organization?
"Under COVID-19, Central City Foundation continues to demonstrate a proactive response to the impacts of social inequities exacerbated by the conditions of quarantine and social isolation. Our collaboration with CCF has focused on the specific impacts for women, girls and femmes in the inner city. CCF heard the concerns expressed by community organizations and acted on the specific vulnerability to violence experienced by women in the inner city through funding community-based responses. This response was timely and engaged, so the feeling experienced through working with CCF is a deep sense of understanding, community and connection."
"CCF leveraged human and financial resources to address the specific impacts of COVID-19. With an emphasis on community engagement and community organizing CCF has helped build many layers of community-based response."