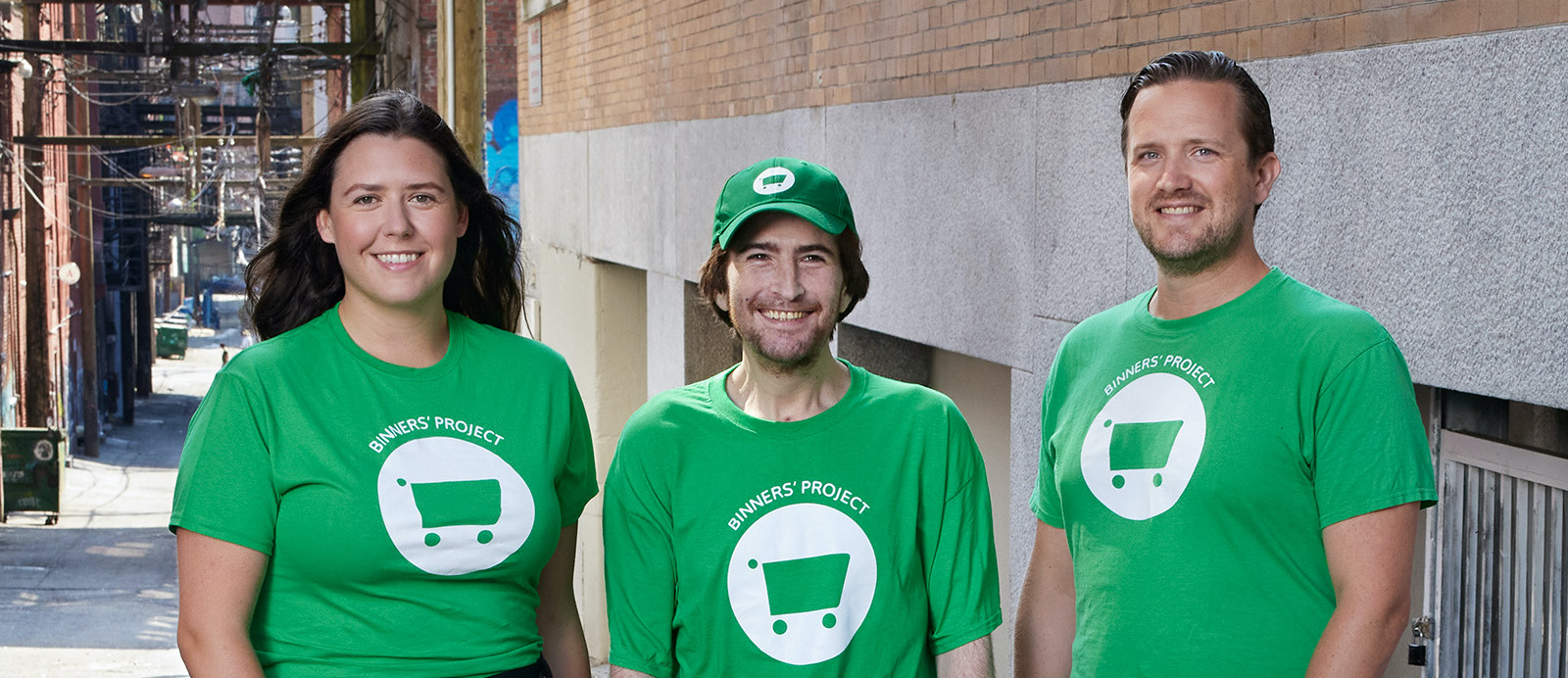 Change Can Happen. Profiles in community leadership: Binners' Project
Central City Foundation is once again celebrating eight examples of extraordinary community leadership. We are highlighting the dedication and determination of those whose support for community-led solutions helped people in our inner city and beyond and have demonstrated that change happen in our community. As part of this celebration, we have asked each of our profiled leaders to share with us their thoughts on leadership, community, and their relationship with Central City Foundation.
Brianne DeMan, Charitable Programs, Davin Boutang, Community Specialist and Sean Miles, Director, Binners' Project
This year, Central City Foundation is celebrating Binners' Project. With perseverance and resilience in challenging times, the Binners' Project has continued to provide equitable and accessible employment opportunities for community members who are often marginalized and facing multiple barriers.
Q: How does your organization help address the conditions faced by people in the inner city? What barriers or opportunities are you attempting to address or create?
Binners, also known as waste-pickers or dumpster divers, are a vulnerable population, with a range of features that lock in marginalization, poverty, housing insecurity, and political invisibility. Most are dealing with, or have previously dealt with, addictions, mental health issues, physical disabilities, abuse, and/or homelessness. These intersecting factors keep in place barriers to full social and economic inclusion.
Through our programs, Binners' Project recognizes the inherent value that binners bring to the well functioning fabric of our cities. Not all people are able to work at the capacity level that most of us understand as formal employment, however this doesn't mean that these folks are not eager or able to participate in our local economies.
Binners' Project strives to meet people where they are at through creating flexible, low-barrier income opportunities focused around waste sorting. These programs serve the triple benefit of community economic development, social inclusion, and waste diversion.
Q: How would you describe some of the common lived experiences, systemic inequalities/inequities and other challenges faced by the people you work with?
Binners experience a great amount of stigma while doing their work: They are often met with resistance, criminalization, and even violence while doing the legitimate work of reducing waste and supporting the circular economy.
As binners' work is often undervalued and unrecognized, one of the tools Binners' Project has developed to elevate the visibility of binners is to provide them with uniforms. These bright green shirts and caps indicate that binners are on-the-job either binning around their own traplines, or through one of our waste sorting opportunities.
A lot of people also don't recognize binning for what it is: Work. Work is often understood as formal, full-time employment, however Binners' Project is working to shift the conversation around work and economic development through recognizing the informal economy as legitimate.
Q: How would you describe the importance of community connections and a sense of acceptance and belonging for the people you work with?
Our origins stem from grassroots organizing, a value that remains strong in our foundation today. We have seen firsthand the importance of keeping our work community-focused: Binners feel valued, their voices are respected and listened to, and their ideas are put into action. This keeps retention in our membership high, with new people coming in the door each week.
We've also seen how motivating it can be to be part of something with a bigger purpose. When folks are contributing positively to the environment and their communities, they feel a unique sense of belonging and pride. This community-building drives our purpose forward, and binners report that more than anything else, it is what keeps them coming back.
Q: What are some examples that give you hope for a better future for the people with whom you work?
For us, hope comes from the people we work with. The binners inspire us each day through their resilience, drive, and perseverance. Even amongst the roadblocks and adversities this community experiences daily, from the ongoing overdose epidemic, COVID-19, homelessness, and stigma, among other things, folks continue to show up each day refusing to give up.
One example of this type of resilience is Davin. An entrepreneur at heart, Davin has been working in the informal economy for 20+ years, and relying on vending and binning to support his income. He joined Binners' Project in 2015 and quickly recognized his passion for furthering the impact and voices of binners. He's held a number of different positions on our staff team, and now serves as Community Specialist for the Project. However, the pandemic was incredibly hard on Davin – with the changes to his routines and structures that were helping him thrive, his work shifted. Even still, Davin never quits, and his eternal optimism and hope for a better future for himself and his community keeps him engaged.
Q: How would you describe the value of developing relationships and collaboration between your organization and funders like Central City Foundation?
Binners' Project seeks out funders like Central City Foundation that recognize the importance of trust and collaboration with the organizations they fund. Through deepening these types of relationships with funders, we are able to increase our impact by being more innovative, more collaborative, and more bold as we look to make change in the community.
Q: What has support from Central City Foundation meant for your organization?
Central City Foundation has championed the work of binners for many decades, before Binners' Project even existed. They have long recognized the importance of providing dignity and value to binners and have been active in the role of destigmitzing this work. This support goes beyond the benefit of much needed funds, it allows us to continue amplifying the voice of binners, furthering both our mission and impact.
Q: Do you have a call to action for our CCF Community that you would like to share?
Get to know your neighbourhood binner! Exchange names with them, thank them for their work, and leave out your bottles and cans in an easily accessible location so they can pick them up.
One way you can do that is by purchasing a Binners' Hook, available on our website. Donations are always welcome as well.
Or, if you or someone you know has a business or residence that could benefit from our waste-sorting program, you can hire us – helping put binners to work. More information about our services can be found on our website: binnersproject.org