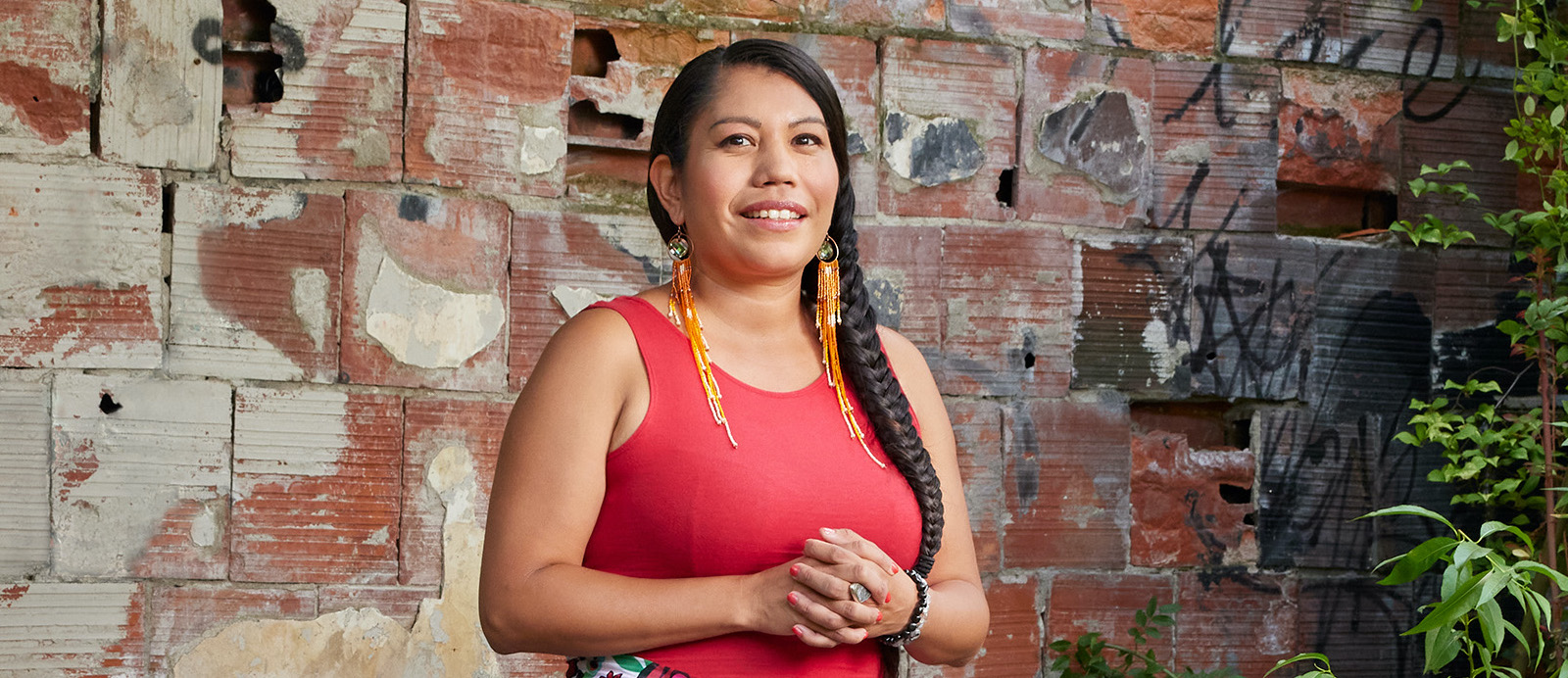 Change Can Happen. Profiles in community leadership: Palexelsiya Lorelei Williams
Central City Foundation is once again celebrating eight examples of extraordinary community leadership. We are highlighting the dedication and determination of those whose support for community-led solutions helped people in our inner city and beyond and have demonstrated that change happen in our community. As part of this celebration, we have asked each of our profiled leaders to share with us their thoughts on leadership, community, and their relationship with Central City Foundation.
Palexelsiya Lorelei Williams, Butterflies in Spirit
Palexelsiya Lorelei has tirelessly and passionately worked in the community to demand justice for Missing and Murdered Indigenous Women and Girls. Both individually and through the Butterflies in Spirit dance group she founded, Palexelsiya Lorelei is providing critical care, support and advocacy for MMIWG family members.
Q: Can you tell us about the work you and your organization are doing in community?
We do a lot of work around MMIWG2S. Working with and supporting families of MMIWG2S. We help them search for their loved ones, organize vigils and attend meetings they have with the police department or anyone involved in their missing loved one's case. We also support women, girls and 2S who are in violent situations. We have a lot of connections to resources in the community that can support them in any way possible.
Q: What does community leadership mean to you?
When I read this question, I automatically think of Anna Mae Aquash. She was an amazing leader in our community. She is someone I look up to. I was once told by her daughter that I remind her of her mom Anna! I was so shocked to hear this, and it is such a huge compliment to me. She went on to become one of the most skilled warriors and dedicated community organizers in the Indigenous resistance movement, and because of this was targeted for repression by the RCMP and FBI.
Q: How would you describe the systemic inequalities/inequities and other challenges that your work addresses?
There are several root causes for the violence against Indigenous women and girls in Canada. I think, first of all, colonization, genocide, and systemic racism. There is so much racism within the government, the police, the media, and all of the systems. Predators target us because they know that the police do not care if our women go missing, and the government doesn't care either, and there are so many policies against us. Canada is racist. The racism and the genocide have to stop. We have the governments, the cities, and municipalities all saying they are all about reconciliation, but that is not true when the issues haven't stopped. Just being acknowledged our lands need to be acknowledged because, since colonization, they have tried to get rid of us by taking our children and throwing them in residential schools. They were targeting our Indigenous women and girls to end that life cycle. What better way to kill us is to target Indigenous women and girls, our life-givers?
Indigenous Women, Girls and 2S have the right to live and the right to be protected by the institutions of our society. The police must stop devaluing and dehumanizing Indigenous Women, Girls and 2S – they are sending a clear message through their actions and negligence that the lives of Indigenous Women, Girls and 2S do not matter. When police fail in their sworn obligations, they are just as guilty as those perpetrators they are sworn to bring to justice. The system is set up to fail Indigenous Women, Girls and 2S, making us easy targets for violent men. This is why there is a high rate of MMIWG2S in Vancouver and across Canada.
Things haven't changed much. For example, working with families, I see that there are jurisdiction issues where cases are pushed back and forth between jurisdictions still today, which was happening back in 1996 in my cousin Tanya's case.
Q: How would you describe the importance of connection and belonging for the people you work with?
For the longest time, I wasn't connected to anything, really. I was ashamed of being Indigenous. I blame this on what happened to my mom and grandparents in the residential school system. When I started to feel connected to my community and felt like I belonged somewhere, that's when I found my voice. I feel like if I didn't find that, I would still be stuck in my trauma and pain. It was when I found my voice that I started my healing journey.
Through Butterflies in Spirit, we became connected as a dance group, and we have come to realize how healing dance is. Being there for each other, we have developed a sisterhood. For every performance, we give each other support and connection, which looks different each time depending on the anniversaries of loved ones going missing. We lean on each other and become stronger together, raising awareness of this issue, and there's definitely power in numbers. And the fact that we can lean on each other and feel like we belong somewhere – that's within the group.
Q: Looking ahead can you share with us some of your thoughts about where you see the possibility that change can happen?
Slowly, things are changing. It's very little, though. There needs to be drastic changes, so our Indigenous Women, Girls and 2 Spirit stop going missing and being murdered. It's our strong Indigenous women, girls and 2S advocates who are doing that. Unfortunately, we have to keep repeating ourselves in order for one person to actually listen and make some changes. It's very hard work, and it's emotionally draining. Not a lot of people understand that. Our people are getting physically sick from fighting so hard.
Q: How would you describe the value of developing relationships and collaboration between your organization and organizations like Central City Foundation?
Developing relationships and collaborating with organizations like Central City Foundation are very important because our Indigenous Women, Girls and 2 Spirit lives are at risk. Any support we get from these kinds of organizations is vital.
Q: Do you have a call to action for our CCF community that you would like to share?
Any support is helpful, and obviously, monetary donations always help. But everybody has their own special gifts. Moments where people offer to share their expertise, like graphic design to format posters, really make a difference. We need help with grant writing, for example, and even just help with postering to raise awareness. There's always something, always ways to help, and it's important to be genuine when helping. This work is emotionally draining, especially supporting families searching for their loved ones, so it helps when people reach out and offer their gifts. More people need to come to the vigils and events to show their support.