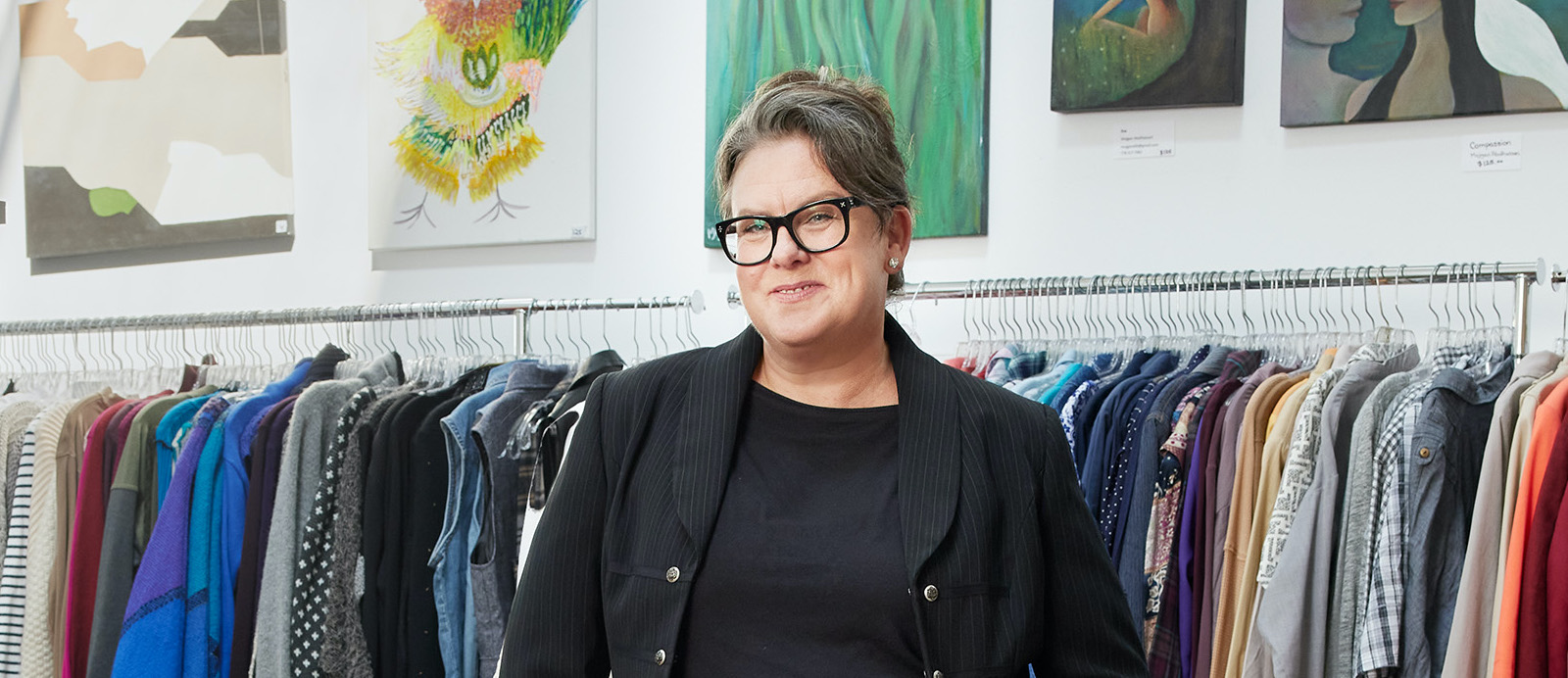 Change Can Happen. Profiles in community leadership: Samantha Kearney
Central City Foundation is once again celebrating eight examples of extraordinary community leadership. We are highlighting the dedication and determination of those whose support for community-led solutions helped people in our inner city and beyond and have demonstrated that change happen in our community. As part of this celebration, we have asked each of our profiled leaders to share with us their thoughts on leadership, community, and their relationship with Central City Foundation.
Samantha Kearney, Manager Development, BWSS, My Sister's Closet
Samantha manages BWSS' social enterprise, My Sister's Closet, which celebrated its 20th-anniversary last fall. Her leadership has ensured that this Eco-Thrift Fashion Boutique has thrived at two locations plus an extensive online thrift store.
Q: How does your organization address the challenging conditions faced by the people you serve? What is the change that you are working to make in the community you serve?
My Sister's Closet is a social enterprise of Battered Women's Support Services (BWSS). All proceeds generated through our ecothrift shops (1830 Commercial Drive and 3958 Main St, Vancouver) go to fund the essential matrix of supports BWSS offers survivors.
 In addition, My Sister's Closet wants to make clothing more accessible for all genders with a diverse price range, styles, and sizes. Survivors who access programs like BWSS' AWARE Employment Program get access to outfits for school, interviews, or a new job. In addition, women who are forced to deal with the legal system can also access clothing for court.
Q: How would you describe some of the common lived experiences, systemic inequalities/inequities and other challenges faced by the people you work with or that your members work with?
94,736 is the number of times someone experiencing domestic or sexualized violence has reached out to BWSS since March 2020. My Sister's Closet works alongside its Mothership, BWSS, to bring an end to gender-based violence and, until that end, to ensure life-saving and transforming support services and programs are available for survivors.
We also recognize the interconnection of violence being done to our Mother Earth through the over-extraction, production and consumption of resources and violence against women. My Sister's Closet is an advocate of zero waste, ecofashion, and thrift movements. The more we reuse, repurpose, and recycle, the less harm is done to our environment and people.
Q: How would you describe some of the common lived experiences, systemic inequalities/inequities and other challenges faced by the people you work with or that your members work with?
Our ecothrift shops have become, in many ways, a community hub. It's a place people know is safe, friendly, and interested in what is happening and participating in neighbourhood building. Community connections are what have made My Sister's Closet what it is and what it continues to be – a successful social enterprise that has raised millions of dollars for the support services and programs of BWSS since its inception in 2001.
Now, there may be one person in that photo above, but please know My Sister's Closet was created by a community, sustained by a community, and continues because of community. We currently have a team of 60 volunteers who give their time and energy to running our shops. Through their volunteer experience, they build their sense of belonging and acceptance as they build for the people coming into our shops. Community is everything.
Q: What are some examples that give you hope for a better future for the people with who you work?
In my ten years of overseeing My Sister's Closet, what gives me hope is seeing community form, build, and work together. Seeing how many people recognize and acknowledge the pressing issues of gender-based violence, climate change, and dismantling of community and take action together to do better.
Q: How would you describe the value of developing relationships and collaboration between your organization and funders like Central City Foundation?
Invaluable. Relationships and collaborations are essential. Essential to our individual and collective well-being. To end gender-based violence to stop the harm being done to our environment and communities, it will require everyone to take action in whatever way they can and ensure the power/resources they have access to are used to empower and uplift.
Q: What is it that you value most about being a community-partner of Central City Foundation?
Central City Foundation has been incredible in keeping connected to the ground, to the people, and to the communities. And hearing what is happening, what is needed, and seeing how they, as a Foundation, can assist and amply the necessary action to the wider community. In addition, Central City Foundation continues to create space for community to come together, like at their always fun Square in the Fair annual event and to highlight the amazing community organizations and people out there.
Q: Do you have a call to action for our CCF Community that you would like to share?
Yes, please consider:
1) donating your clothing and accessories to us at 1830 Commercial Drive or 3958 Main St, Vancouver, open for drop offs Monday to Sunday 11am-6pm
3) volunteering with us https://www.bwss.org/take-action/volunteer/apply-sisters-closet/
2) doing your thrift shopping with us at our brick and mortar shops or online https://mysistersclosetvancouver.shop/