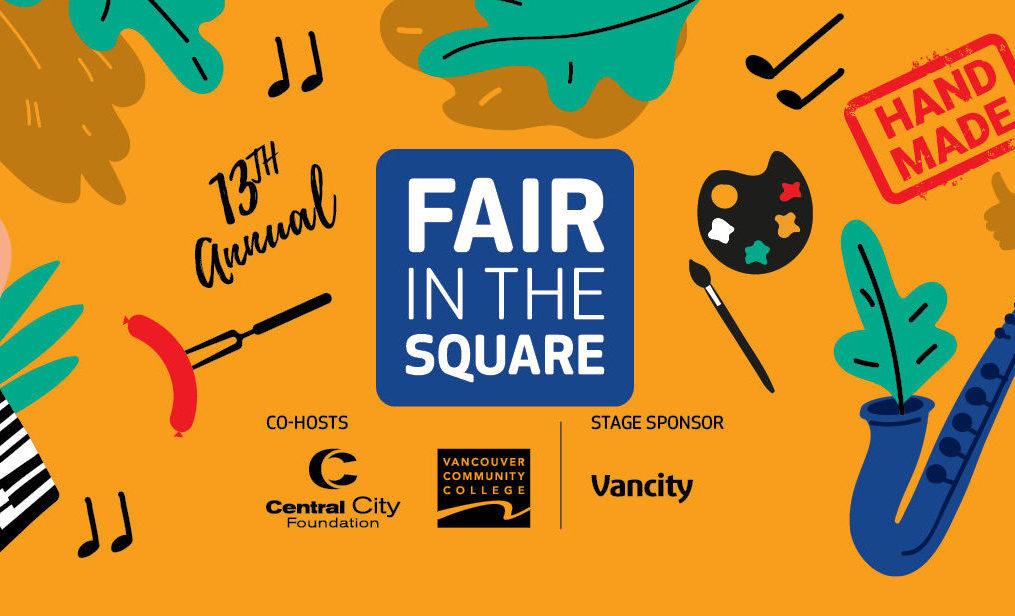 Highlights from 13th Annual Fair in the Square on May 26, 2019
Thank you to our co-presenter Vancouver Community College, all our volunteers, sponsors, community partners and neighours for making our 13th Annual Fair in the Square another big success.
Media Alert/Photo Opportunity
Neighbours from around the city are invited to Fair in the Square in downtown Vancouver for a celebration packed with live music, arts and crafts, a free BBQ lunch, and more. Join us in Victory Square Park at Hastings and Cambie on Sunday, May 26, 2019, from 11 a.m. to 2 p.m.
Hosted by Central City Foundation in partnership with Vancouver Community College (VCC), this year the annual celebration of the downtown neighbourhood will feature live music, an expanded artisan and social enterprise market, dozens of community groups with information to share, thousands of burgers and cupcakes prepared by students from the VCC culinary arts and baking programs, family and kids activities, Brazilian dancing lessons, contests, prizes and more.
Fair in the Square brings people from across the region to the inner city to offer a meeting place, a space of respite, remembrance and renewal for all our neighbours. Fair in the Square will be an opportunity for neighbours to come together, to see the great things happening in the inner city, and to build hope.
WHAT: Fair in the Square, a celebration with free food, music, arts market and more
WHEN: Sunday, May 26, 2019, 11 a.m. to 2 p.m.
WHERE: Victory Square Park, Hastings and Cambie in Gastown, Vancouver
WHY: Neighbours celebrating with neighbours
WHO: Performers include rockers Ronnie and Dynamix Band, Indigenous drumming group Wildflower Women of Turtle Island, rock/fund group Trilojay and Latin dance group Brazilian Swag.