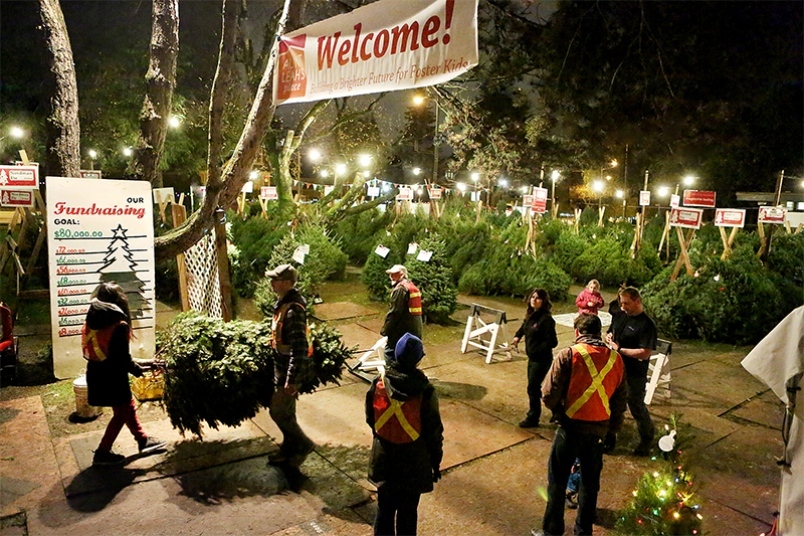 Being a little extra kind, calm and safe this holiday season by supporting social enterprise
All of us at Central City Foundation want to wish everyone a happy holidays!
This holiday season is always an important fundraising time for our community partners and this year it's extra important. So we'd like to share with you the many ways you can show your kindness and community spirit by giving gifts that support the efforts of those that make a difference in the lives of our inner-city neighbours. From Christmas trees to ceramics to honey from urban bees, there is something for everyone on your list.
Aunt Leah's tree lot and thrift stores
When you buy a Christmas Tree from Aunt Leah's tree lots you are supporting youth aging out of foster care, including young mothers and their children who are supported by Aunt Leah's housing and support services.
Due to high demand, this year supplies of Christmas Trees are going extremely quickly. Luckily, two of their five locations are still open in Vancouver and Burnaby. You can find out the latest information on their website. You can also support them by shopping at Aunt Leah's Urban Thrift at 177 E. Broadway St. in Vancouver.
Artisan gifts at Atira's EWMA Store
EWMA is a self-employment program that works with emerging women artists and artisans in Vancouver's Downtown Eastside and sells their wares at their store located at 800 E. Hastings in Vancouver. From handmade jewellery to pottery, there are so many gifts ideas that really make a difference in the lives of the talented women at EWMA. You can find out more on their website.
JustPotters
JustWork Economic Initiative provides meaningful, flexible employment to people who face barriers to working in the traditional workforce. This year you can purchase pottery gifts at their office weedays, 9-3pm at 648 E Hastings Street or by appointment at their studio at 335 Princess Avenue.
For information or to schedule an appointment call 604-253-4469 or email shelimar@mission-possible.ca
Skwachàys Lodge and Art Gallery
Skwachàys Lodge is Canada's first Indigenous arts hotel. Operated by Vancouver Native Housing, Skwachàys supports Indigenous artists through an artist in residence program and through the Skwachàys Art Gallery where you will find authentic and fair trade works from local and international Indigenous artists. You will definitely find something unique at Skwachàys. Find out more on their website.
Hives for Humanity
Hives for Humanity is a unique organization that mentors at-risk populations in beekeeping to create flexible work opportunities around the city. From honey to candles, there are so many great gift options for the busy bee in your life. Order online or find Hive for Humanity goods at these local shops. You can find out more on their website.
BWSS' My Sisters Closet
Battered Women's Support Services provides education, advocacy, and support services to women who are experiencing or have experienced violence. From a crisis line to victim support groups and counselling, to legal support, BWSS helps women find safety.
To support their programs they are currently running fantastic thrift stores online and at their Commercial Drive location. You can support BWSS by giving a gift card to a fashion fan in your life. Find out more at their website.
Mission Possible Pottery
Have a potter in the family? They'll love a handmade piece of pottery from Mission Possible, which is a work readiness program that supports people living in poverty back into employment. They offer training and coaching and transitional work opportunities through their social enterprises. One of their programs is teaching pottery to their participants, which you can buy from their pottery studio at 659 E. Hastings.
Megaphone – Hope in Shadows Calendar
Megaphone is a street magazine that provides flexible employment to homeless and low-income people around the city. Each year Megaphone puts out the Hope in the Shadows calendar which features photos taken throughout the year by Megaphone vendors using disposable cameras. . This project is rooted in creating space for people experiencing poverty to tell their own stories, through their own lens. Hope in Shadows shows the beauty, joy, friendship, and hope that exist alongside the hardship in the lives of people impacted by poverty. You can purchase a Hope in the Shadows calendar online for pick up or delivery at their website. For your loved ones who have it all consider giving them the gift of supporting community-led solutions by donating on their behalf to Central City Foundation. Donate here.
Potluck Café and Catering
Take a break from cooking this holiday season by supporting this amazing social enterprise. Find out more on their website.
If you are interested in seeing your donation in action, click the link below to read our community report to see the life-changing impact you have made as a donor to Central City Foundation.