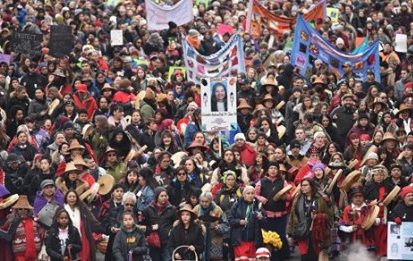 Supporting the Women's Memorial March February 14, 2021
The 30th annual women's memorial march will be held on Sunday, February 14, 2021. The march is organized and led by women in the inner city and honours the lives of missing and murdered women. This event is organized and led by women in the DTES because women, especially Indigenous women, face physical, mental, emotional, and spiritual violence on a daily basis.
Following all COVIC-19 protocols, the march will begin at Hastings and Main at 10:30 am and continue through the streets of the Downtown Eastside and ending in a socially-distanced feast at the Japanese Language Hall. Everyone is invited to come together to grieve the loss of our beloved sisters, remember the women who are still missing, and to dedicate ourselves to justice.
To make the event as accessible as possible this year to those unable to march in person, it will be live-streamed on Facebook and Youtube.
Central City Foundation is proud to support the march again this year, and we encourage people to take advantage of the livestreaming on Facebook and YouTube to show support, increase your understanding and engage with this important event.
For more information, visit the event page on Facebook.