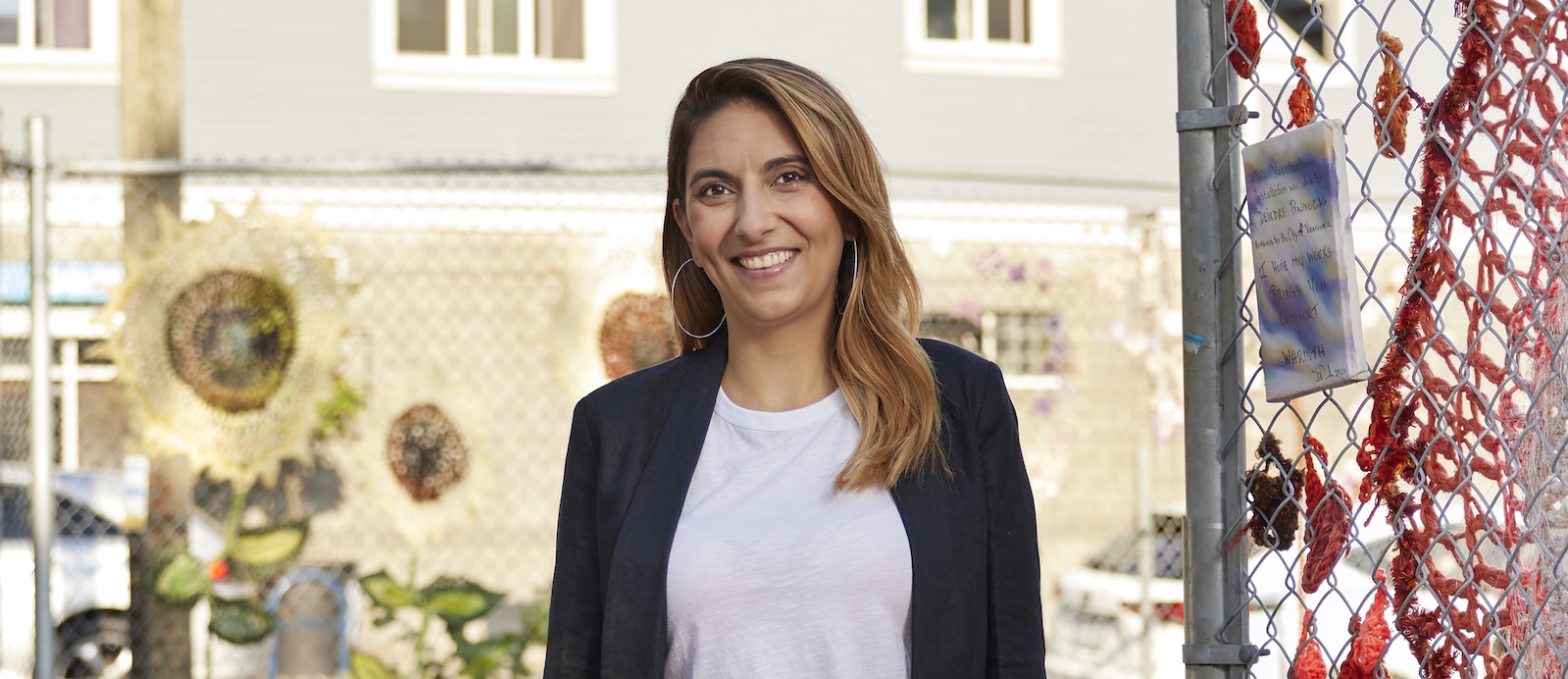 Change Can Happen. Profiles in community leadership: Caithlin Scarpelli
Leadership comes in many forms and often goes unrecognized in our community. That's why Central City Foundation is celebrating eight examples of extraordinary community leadership. We are highlighting the dedication and determination of those whose support for community-led solutions helped people in our inner city and beyond to improve the conditions of their lives during the COVID-19 pandemic. As part of this celebration, we have asked each of our profiled leaders to share with us their thoughts on leadership, community, and their relationship with Central City Foundation.
Caithlin Scarpelli, Director, Communications & Fund Development, Atira Women's Resource Society  
Central City Foundation is celebrating Caithlin because of her commitment to adapting services and programs during the pandemic to ensure women were safe, cared for and connected. But we also want to recognize her extraordinary commitment to the community, showing up time and again to support her colleagues and those folks made most vulnerable during the pandemic in the Downtown Eastside. She found ways to share her resources, to help others access vitally needed funds and resources and challenged folks to do better both by her example and clear advocacy at collaborative tables. She provided strong leadership in finding innovative ways to address the increase in gender-based violence that women were facing due to the pandemic restrictions.
Q: How does your organization help address the challenging conditions faced by people in the community?
"As a women's anti-violence organization, we provide more than 30 housing programs for women and children across the Lower Mainland, and 22 related support programs. We focus mainly on women who are struggling with substance use and/or mental wellness and on supporting women to parent their children (and children to be parented by their moms). At Atira we support women and children who have been affected by violence / abuse. All women, including trans, two-spirit and transfeminine folks."
Q: What does community leadership mean to you?
"Listening, being relentless in advocating for what you believe in, making space at tables for folks who may not usually be invited (such as folks with lived expertise), and a willingness to take risks to in order to make meaningful change."
Q:  How did the health orders associated with the COVID-19 pandemic create further challenges for people in the community?
"Community spaces closed or operated at reduced capacity, leaving women with little to nowhere to go to access their basic needs. Fewer shelter beds meant increased risk for women. Increased fear and anxiety, both about being infected but also restrictions placed on socializing. Isolation. Loneliness. Increased risk of violence, especially towards women, as the pandemic wore on. Frustration with children who were isolated and especially for women without resources to find entertainment for their children."
Q: How would you describe the impact of your programs/initiatives on addressing the issues faced by people in the community during COVID-19?
"As an organization that supports more than 8,000 women and children annually, this is a big question. The short version I think is that we didn't close, we didn't compromise our mission, vision or values, we adapted programming to meet the health orders, opened/started new programs and services to both support people who were COVID-positive but also in response to gaps in community services, reviewed and updated our protocols as new health information was provided, regularly trained our staff, provided monthly COVID newsletters to the women we serve, conducted two extensive tenant surveys to hear from tenants about how COVID and COVID restrictions were impacting them and adapted our programs based on their feedback."
Q: How would you explain the importance of development programs and solutions being community-led?
"If programs aren't community led, they aren't for community. Programs should always respond to needs identified by the people they are intended to serve, and wherever possible, include staff, both leadership and front-line staff, with lived expertise."
Q: What are some examples that give you hope for a better future for the people you work with?
"I don't think you can do this work for as long as I have without hope, although this year has certainly put that hope to the test. Some days I get hope from looking around at a meeting and seeing so many dedicated folks working every day to create safe and supportive spaces for people who are made vulnerable. Some days it comes from a conversation with a resident about how she decided not to use that day or reading a program report about our pregnancy outreach team connecting a homeless pregnant woman to our clinic. Other days it comes seeing a new program open after working for years to raise funds and advocate for needs. I think as long as you can take small moments, especially in the chaos, to appreciate the resiliency of women, your co-workers, and the little things that may not seem big to some, hope just comes."
Q: What has support from Central City Foundation meant for your program or organization?
"Central City Foundation was first to the table when I pitched SisterSquare in May 2020. When the health orders first came down, community spaces started to close or reduce capacity, including SisterSpace, our women-only safe using program, leaving women without a place to go. I showed up at a community round table and told the group we were looking to erect a tent for women only, including trans, two-spirit and transfeminine folks, on a parking lot next to one of our housing programs and kitty corner to Oppenheimer Park. The intention was a place for women to flee too if they felt unsafe of at risk of violence, to use safely (both injection and inhalation), to get a meal or snack, and to connect with support workers, peers, housing staff and stopping the violence counselling. After the meeting, I got a call from Jennifer who asked me how much we needed to get going and how CCF could help. I can't express enough how important that first funder in is, to the ultimate success of any new program."
"Since SisterSquare opened there have been 109,235 visits, just 12 overdoses and no deaths; and we continue to see between 80 -100 women every day. SisterSquare also provides employment to 20 peers, has onsite washroom and shower trailers and a sleeping camper and is supported by multiple funders and community partners."