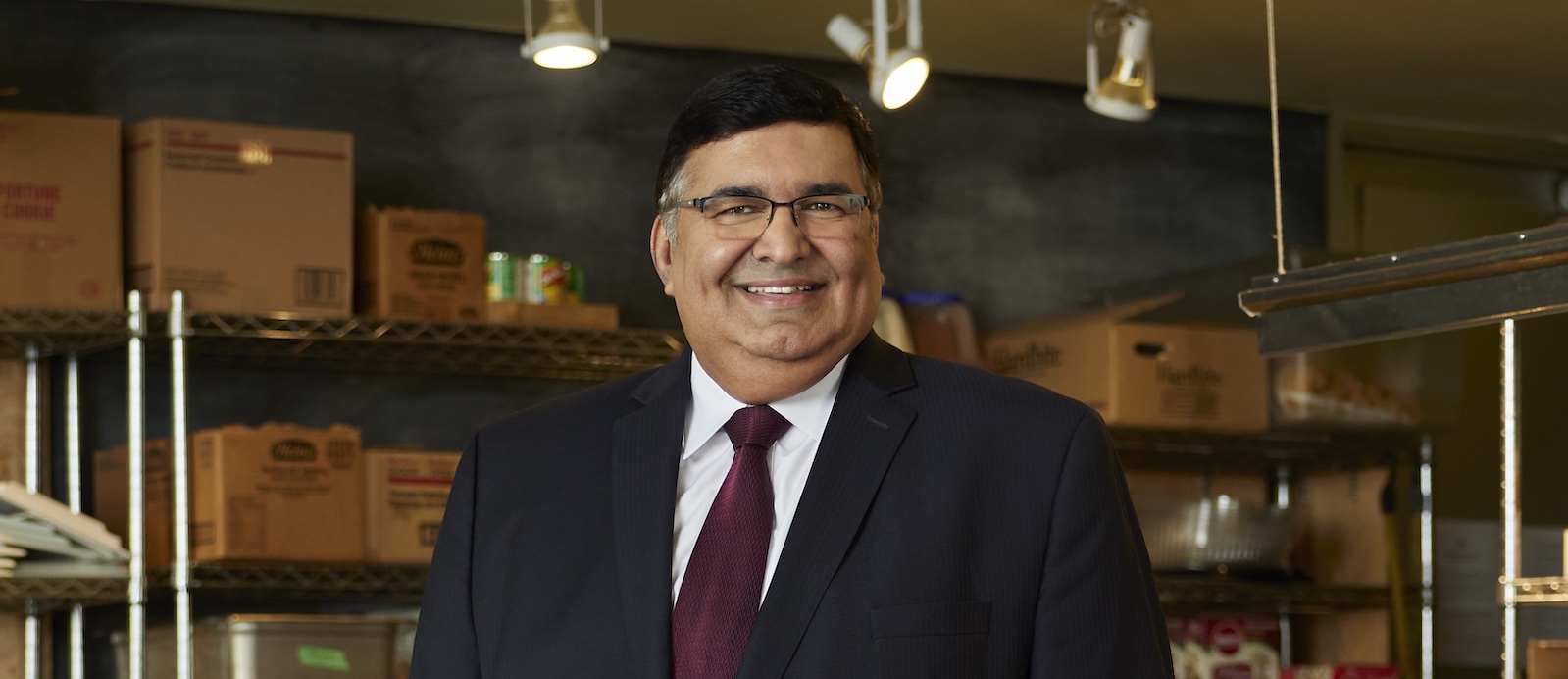 Change Can Happen. Profiles in community leadership: Naved Noorani
Leadership comes in many forms and often goes unrecognized in our community. That's why Central City Foundation is celebrating eight examples of extraordinary community leadership. We are highlighting the dedication and determination of those whose support for community-led solutions helped people in our inner city and beyond to improve the conditions of their lives during the COVID-19 pandemic. As part of this celebration, we have asked each of our profiled leaders to share with us their thoughts on leadership, community, and their relationship with Central City Foundation.
Naved Noorani, Executive Director, Potluck Café & Catering 
Central City Foundation is celebrating Naved because of his unwavering commitment to ensuring community members in the DTES were fed and nourished during the COVID-19 pandemic. His contribution as a leader of Potluck Cafe and Catering was outstanding – including his efforts to secure funding and coordinate production and distribution of meals for community members. He provided an example of how community organisations can support one another and collaborate in order for all to thrive and care for one another. His organization pivoted from a catering business to focus solely on the immediate need of feeding those living in SROs and currently experiencing homelessness while maintaining a commitment to jobs, community and opportunity as a social enterprise.
Q: How does your organization help address the challenging conditions faced by people in the community?
"Through employment and training members of the DTES community, Potluck's aim is to help them have greater agency over their lives and improve their living conditions through economic independence. The key barrier is poverty and lack of meaningful employment and through our work, we help them to eventually get back into the traditional workplace. As a Supportive Employer, our Employment Support worker helps them navigate through challenges – we find mostly non work related, to give them a well-rounded encouraging and motivating work environment."
Q: What does community leadership mean to you?
"There are many talented people working in the non-profit sector, who are very committed to bettering the lives and living conditions of the DTES community. Adopting a more holistic approach towards the needs and issues that we aim to resolve produces better results and a far greater impact on the community we are committed to serve. Rising above just our own needs, and looking at the bigger landscape, we will have a greater impact on the community we have dedicated ourselves to serve." 
Q: In response to COVID-19 health orders, how did your organization pivot or alter your programs or services?
"In March 2020, Potluck was on the verge of celebrating our most successful year. The business we operated proved exceptional results. We had just signed a lease for a new location and were excited at the prospect of a successful business migrating to a better equipped facility."
"As the impact of the pandemic engulfed our city and the health orders dictated closure of food service outlets and eventually the only grocery store that was accessible to the community, it was evident that the scarcity of food would be magnified. There was simply no food vending taking place and neither could the residents buy groceries to cook in their residence. It was a human disaster where a fundamental human need could not be met and there were no answers to the problem." 
"Given my hospitality background I realized this would be a complex issue – to standardize meals, have them produced in identical packaging, deliver them to a distribution centre and from there, have the food sent to various locations within a very short period of time.  I volunteered our resources to coordinate the production and distribution of meals for the residents of the DTES. We knew the demand was far greater than any one facility could produce and so we shared the production over a number of facilities."
"The City took us up on our offer and at peak were producing 1,100 meals a day. We also realized that there was a huge scarcity of food for the homeless community and we set about raising approximately $250,000 to produce meals for them. We collaborated with a number of volunteer groups and peer workers to distribute these meals on a daily basis. Through our network, we were also able to direct surplus and donated food to the appropriate location."
Q:  Are there any specific examples of how your understanding of what works in community helped guide your actions during this crisis?
"Potluck has provided meals for the residents of Portland Hotel and many community members at various events, for the past 18 years. Over time we have gained an understanding of the types of meals that are suitable for the community – they are quite specific in terms of texture and the kinds of seasoning that are needed."
"With this lived experience, we were able to engage other community partners and share our recipes and menu planning guides to ensure uniformity and that the meals were well received by the community."
Q: How would you describe the importance of community connections and a sense of acceptance and belonging for the people you work with? How did COVID-19 impact people's ability to connect with one another and what impact did this have?
"If there's any good that came out of the pandemic it is the collaboration that we all experienced. By frequently sharing what was transpiring in the neighbourhood, we were in a great position to find resources or to use each other's networks to find solutions to situations. It also gave us a better understanding of the issues being faced and of those involved in finding resolutions. This in itself built a greater sense of respect and spurred collaboration."
Q: How would you describe the value of developing relationships and collaboration between your organization and funders like Central City Foundation?
"Central City Foundation has not only been a generous contributor to Potluck, over the years and for our current project, but it also has been an incredible source of knowledge and wisdom. During the pandemic, CCF realized the necessity for Potluck to have funding to produce the meals our community needed and was an incredible supporter."
"Central City has an amazing understanding and lives that "Big Picture" and through collaboration we gain knowledge that we are lacking. Being so invested in the community, their suggestions help eliminate the need for the trial-and-error approach that smaller nonprofit businesses have to take. With limited resources, unlike larger corporations, we need to rely on community partners like CCF."