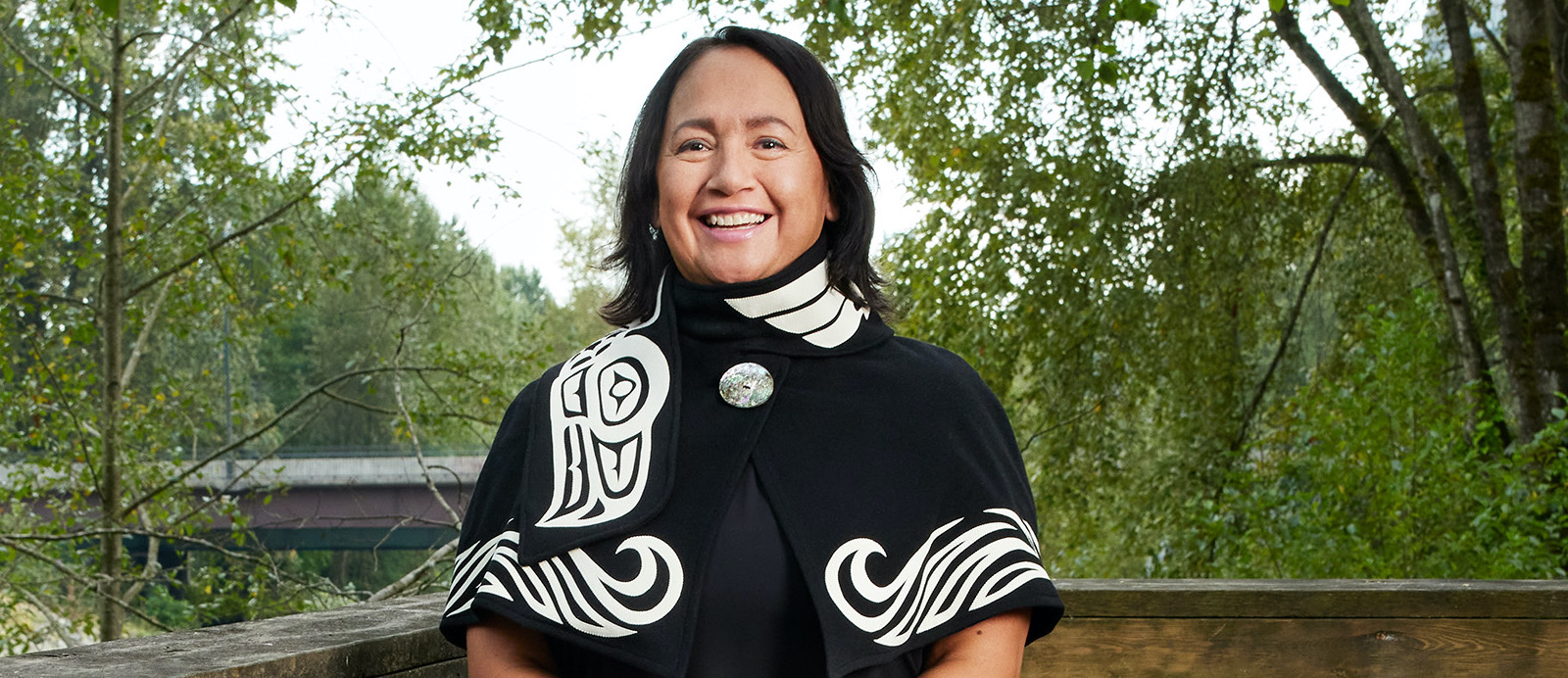 Change Can Happen. Profiles in community leadership: Margaret Pfoh
Central City Foundation is once again celebrating eight examples of extraordinary community leadership. We are highlighting the dedication and determination of those whose support for community-led solutions helped people in our inner city and beyond and have demonstrated that change happen in our community. As part of this celebration, we have asked each of our profiled leaders to share with us their thoughts on leadership, community, and their relationship with Central City Foundation.
Margaret Pfoh, Chief Executive Officer, Aboriginal Housing Management Association
(Note: Margarets's shawl by textile artist Yolonda Skelton, Sugiit Lukx Designs.)
This year, Central City Foundation is celebrating Margaret Pfoh. For over 25 years, Margaret has fostered community development through empowerment and respect. Recent AHMA collaborations have lead to critical programs and initiatives such as the 2021 Housing Strategy for Urban and Rural Indigenous Peoples.
Q: How does your organization address the challenging conditions faced by the people you serve? What is the change that you are working to make in the community you serve?
As Canada's first Indigenous housing authority, AHMA's goal is that ALL Indigenous people in BC have an affordable, culturally supportive, and safe place to call home. The programs and services provided by AHMA members include affordable housing units, homeless shelters, transition homes, supportive housing, and assisted living facilities. Many of AHMA's members also offer support services, including homelessness prevention, parenting skills, mental health programs, and substance use support. AHMA members comprise over 95% of the Indigenous housing and service providers in BC and one-third of the Indigenous housing providers in Canada.
The change AHMA wants to see includes ALL Indigenous families having access to affordable, culturally safe housing. We want to make Indigenous homelessness a rare, brief, and one-time experience. We also want to ensure Indigenous people have access to a variety of housing solutions, including homeownership. We also want to support improved health and well-being of Indigenous people through safe, stable, and culturally appropriate housing programs and services.
Q: How would you describe some of the common lived experiences, systemic inequalities/inequities and other challenges faced by the people you work with or that your members work with?
Indigenous people in BC statistically face unique challenges that impact housing in both urban and rural areas. Indigenous people are disproportionately over-represented in the homeless and at-risk of homelessness population in the province. Indigenous people represent over 4% of the Canadian population and 7% of the population in core housing need. Many are younger, have lower average incomes, and there are more single-parent families. Indigenous people in BC have much higher levels of chronic health issues than the non-Indigenous population, including struggles with mental health and addictions due to the impacts of colonially imposed traumas, racism, and systemic barriers to healthcare, stable housing, and gainful employment. Indigenous people living on reserve in BC are also inadequately housed, creating a cascading effect on housing availability and affordability in urban areas. Indigenous housing and service providers need immediate prioritization, barrier reduction, and funding because the housing crisis has worsened, and many families can no longer afford appropriate housing.
Q: How would you describe the importance of community connections and a sense of acceptance and belonging for the people you work with?
In all research about trauma, there is a common thread: connection is the key to healing. Experts summarize the right to adequate housing as the right to live in security, peace, and dignity. Connection and belonging are a huge part of the wellness equation. A sense of belonging is especially important for Indigenous families, who need to be together to rebuild the connections, cultural practices, values, and knowledge that are central to health and wellbeing. Advancing reconciliation requires all communities to ensure that decision-making on housing considers the needs of Indigenous Peoples and recognizes that adequate housing is not only foundational to the beginning of a healing path but also a basic human right. Only a portion of housing providers offer the complex care that's currently needed, and culturally safe wraparound supports to help people recover from the traumas they have endured.
Q: What are some examples that give you hope for a better future for the people with who you work?
There are many stories of families and individuals who once struggled and now thrive where their journeys started with housing security. AHMA has outlined solutions to the housing, homelessness, and poverty struggles our people are facing. We know what needs to be done. AHMA's members and partners are also tirelessly dedicated solution providers. Indigenous people are strong, resilient, knowledgeable, and deeply rooted. I have hope because I know the solutions exist, and I have seen the difference that safe, affordable, culturally supportive housing can make. Voices are rising… this is a source of hope, too. You can't have justice and reconciliation without addressing the right to housing. Implementation of AHMA's for and by Indigenous housing strategy will result in improved health and well-being of Indigenous people.
Q: How would you describe the value of developing relationships and collaboration between your organization and funders like Central City Foundation?
Community-led initiatives require local understanding and investment. Partnering with funders like Central City Foundation ensures we honour local leadership and local voices. Collaboration with CCF ensures we adhere to our commitment to putting our people's voices first.
Q: What is it that you value most about being a community-partner of Central City Foundation?
We value the honesty, integrity and openness of CCF to listen and respond to community-driven initiatives and their willingness to engage in acts of reconciliation through empowerment and collaboration.
Q: Do you have a call to action for our CCF Community that you would like to share?
The urgency of the housing crisis can't be overstated. Having a safe, affordable place to call home is fundamental to well-being. That's why housing is a human right. AHMA asks that everyone raise their voices and demand justice for Indigenous families in need of housing.
Everyone can help us call on all three levels of government to honour their commitments to human rights and reconciliation.