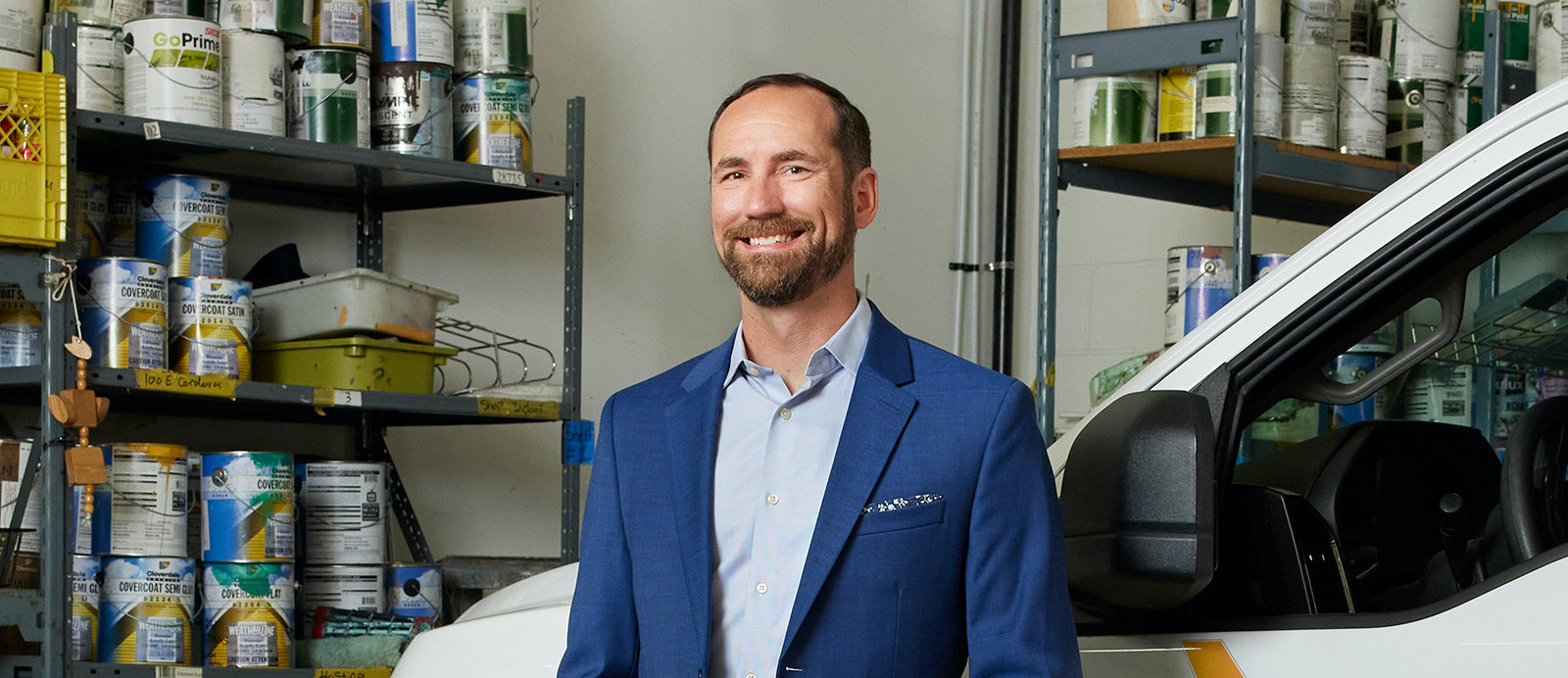 Change Can Happen. Profiles in community leadership: Matthew Smedley
Central City Foundation is once again celebrating eight examples of extraordinary community leadership. We are highlighting the dedication and determination of those whose support for community-led solutions helped people in our inner city and beyond and have demonstrated that change happen in our community. As part of this celebration, we have asked each of our profiled leaders to share with us their thoughts on leadership, community, and their relationship with Central City Foundation.
Matthew Smedley, Executive Director & CEO, Mission Possible
This year, we are celebrating Matthew Smedley. With Matthew's leadership, Mission Possible continues to offer accessible income earning opportunities that also help provide a sense of purpose and worth for community members who are facing multiple barriers to employment.
Q: How does your organization help address the conditions faced by people in the inner city? What barriers or opportunities are you attempting to address or create?
Mission Possible transforms lives through meaningful work. We help people typically excluded from the traditional workforce—like those facing homelessness, poverty, and other barriers to employment—to experience empowerment by paving a pathway to long-term jobs and lasting change. Through our spectrum of supports, including two social enterprises in Vancouver's Downtown Eastside, Mission Possible connects people to community, builds capacity, and creates jobs that change lives.
Q: How would you describe some of the common lived experiences, systemic inequalities/inequities and other challenges faced by the people you work with?
Right now, thousands of people in Vancouver's Downtown Eastside are unfairly shut out of meaningful work and opportunity. Homelessness, poverty, and more, are the obstacles they face, which oftentimes feel insurmountable and impossible to navigate. These barriers also mean their human potential is often untapped or ignored by the outside world.
Mission Possible addresses these challenges head-on by meeting people where they are. We walk alongside people as they navigate these barriers to find meaningful work, paving a pathway to opportunity by:
Connecting to a community that sets them up for success. This gives people a soft place to land and safe place to launch
Empowering lives through training, coaching, and on-the-job work opportunities. We match participants with our professional social enterprise businesses—MP Maintenance and MP Neighbours—so they get real world experience while building capacity and expertise
Propelling people to meaningful employment that helps them reclaim hope, confidence and purpose. This involves working alongside BC's industry leaders to connect real people to real jobs and creating lasting change and springboards to further success
Q: How would you describe the importance of community connections and a sense of acceptance and belonging for the people you work with?
A job provides so much more than just a paycheque. Working alongside others builds meaningful relationships that help people break out of isolation and develop a sense of connection and belonging. This results in a renewed sense of dignity and self-confidence that helps to move people toward stability and healthier lives.
Q: What are some examples that give you hope for a better future for the people with who you work?
Some people hear about the life-changing opportunities we provide for months, or even years, before they have the courage to take the step to try this out for themselves. They are often delayed by their own fears and self-doubts. It is amazing to see those fears dissipate as people start their journey with us. Many people, even on their first day of work will recognize that those internal voices that were telling them "You can't do it. You are going to fail," those voices were wrong! They begin to recognize their own strengths and skills that were overshadowed, and that discovery fuels a passion to reach their goals and think differently about what is possible for them. Some of the biggest indicators of hope are these individuals. People who start this journey from a place of uncertainty, then they come back to us months after transitioning into a job outside of Mission Possible and let us know how their life is so different now. A lot of people who come to Mission Possible because a friend shared their experience with them. They recognize that Mission Possible is a place that helps to change lives and they want others to have the same experience. 
Q: How would you describe the value of developing relationships and collaboration between your organization and funders like Central City Foundation?
Mission Possible relies on partners who see both the need and the impact of the work we do and want to join with us. Some do it solely as a funder, but CCF goes above and beyond. Their level of community involvement is so much higher that other funders. They are connected to what is happening on a daily basis and are committed to being a part of the solution for the community's systemic challenges, not merely through financial contributions, but through collaboration and leadership.
Q: What is it that you value most about being a community-partner of Central City Foundation?
I know that Central City Foundation is committed to seeing the community changed, and they are working hard to provide solutions for those experiencing poverty in Vancouver's Downtown Eastside.
Q: What has support from Central City Foundation meant for your organization?
CCF has been a committed funder, most recently supporting the launch of the Women's Track with our Employment Readiness Program. Tragically, rates of gender-based violence are high in the Downtown Eastside and CCF is working to address these issues. When we launched this initiative, CCF was there to support us and ensure that the women who are entering the program had the equipment they needed for a good start.
Q: Do you have a call to action for our CCF community that you would like to share?
Mission Possible is working to help people overcome barriers to employment. However, we also know that more employers need to embrace inclusive hiring practices that open the door to those experiencing barriers to employment. When we all work together to make sure that people are not excluded from opportunities, that helps all of us thrive and makes life in our community better.