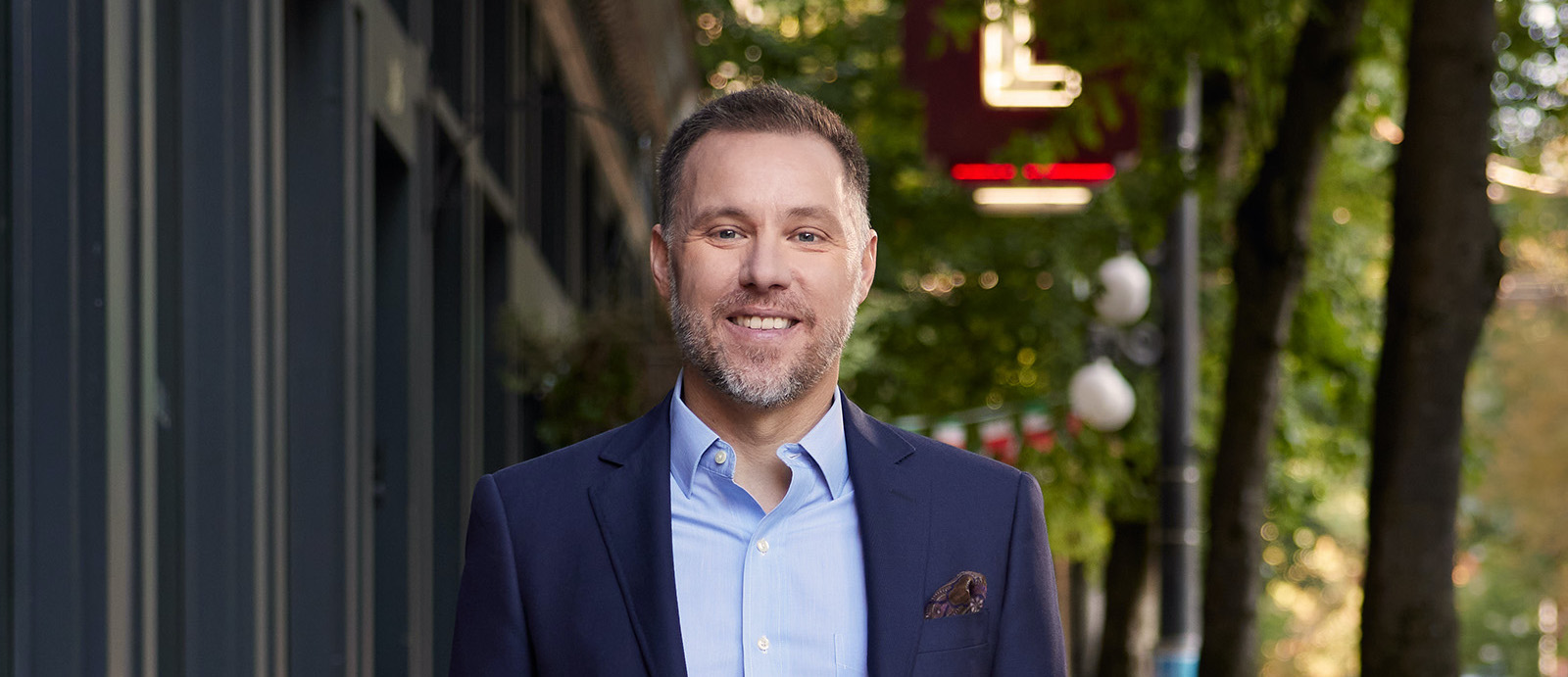 Change Can Happen. Profiles in community leadership: Steve Johnston
Leadership comes in many forms and often goes unrecognized in our community. That's why Central City Foundation is celebrating eight examples of extraordinary community leadership. We are highlighting the dedication and determination of those whose support for community-led solutions helped people in our inner city and beyond to improve the conditions of their lives during the COVID-19 pandemic. As part of this celebration, we have asked each of our profiled leaders to share with us their thoughts on leadership, community, and their relationship with Central City Foundation.
Steve Johnston, Executive Director, Community Impact Real Estate Society
Central City Foundation is celebrating Steve for his commitment to bringing together community organizations who were struggling to maintain their services and programs when the pandemic hit to collaborate and coordinate essential support for our inner city neighbours from a community-focused and community-led approach. Through the creation and development of the Community Coordinated Response Network (CCRN), he provided leadership to ensure there was funding, support and coordination for community organizations. Steve and his team at CIRES also worked very hard to ensure community organizations and local businesses had access to rent relief and other supports so that spaces for community and social enterprises could continue to operate during these uncertain and strained times. 
Q: What does community leadership mean to you?
"Community leadership means creating a space where all voices can be heard. It's a recognition that residents know what the solutions are and listening to those with lived experience. It's also facilitating conversations to find common ground and a shared way forward. Too often there's a perception that stakeholders in the DTES don't work together. Leadership is building a constituency based on shared principles that actively demonstrates the collaborative approach that's always been present among stakeholders in the DTES."
Q: How did the health orders associated with the COVID-19 pandemic create further challenges for people in the community? 
"One of the biggest impacts of COVID-19 was the rapid closure of spaces that offered essential supports and services to residents. For example, many of the organizations providing meal programs in communal dinning spaces had to close. This had an immediate impact on residents who relied on these dining programs as a cornerstone of their food security. Closures meant community organizations had to scramble to identify alternate supports and find funding to support the changes in food production and delivery."
"The impact of closures went far beyond things like food programs. The closure of spaces where residents could socialize, work and find community furthered the sense of isolation and loneliness in the community. The impact was threefold. The first outcome was worsening mental health issues for residents cut off from their community. The second outcome was more residents were forced to socialize on the sidewalk and other public spaces. This led to the perception that the community was in a profound downward spiral and dangerous. Finally, the closure of spaces like the street market pushed vendors back to the sidewalks and parks in attempt to continue to operate their businesses and generate essential income."
Q: In response to COVID-19 health orders, how did your organization pivot or alter your programs or services?
"First, CIRES moved quickly to convene a group of tenants to explore issues of business/program continuity in the face of widespread shutdowns and closures. Within several weeks, this exploded into a 3x/week meeting of over 50 stakeholders including non-profits, social enterprises, labour unions, business and government. The conversation grew to include sanitation, access to vital PPE supplies, food production and distribution and income generation for low income residents not able to access federal supports. This group became the CCRN."  
"Second, CIRES staff had to quickly shift their work to support our for-profit tenants. CIRES quickly pivoted to work with them to access any and all provincial and federal supports. CIRES promised that we would do our utmost to ensure no businesses failed during the shutdown." 
"Third, as a trusted organization, CIRES received and administered funds to community organizations on behalf of the City of Vancouver. Due to this relationship, many small, grassroots organizations were able to access wages for their peer workers to provide essential COIVID-19 supports to community. Government needs to trust that the community knows best how to support a population in crisis. Funds placed in trust with CIRES leveraged the lived experience and local knowledge in a way that I've never seen before. The lack of red tape and complexity meant the funds quickly made it to those most able to maximize their potential."
Q: How did your understanding of what works in community help guide your actions during this crisis?
"Local non-profits and residents with lived experience know what's needed to create a just and equitable community that works for all residents. I think what works is creating a space where these voices can come together and actively collaborate and coordinate their efforts to build that community. I was happy to be a facilitator that respected these voices and created a table and guided conversations leading to shared outcomes." 
Q: How would you describe the impact of your initiatives on addressing the issues faced by people in the community during COVID-19?
"CIRES was able to use its staff team, administrative capacity and physical spaces to help the DTES weather the pandemic. I was able to leverage our staffing compliment to support the work of the CCRN. Yazmin Machuca, our Operations Manager, Shaugn Schwarz, our Director of Portfolio Management and Capacity Building, and Eileen Wang, our Financial Officer, went above and beyond. Without the dedication the staff team, I'm not sure CIRES' broader response could have been successful." 
Q:  How would you describe the value of developing relationships and collaboration between your organization and funders like Central City Foundation?

"Cultivating relationship between funders like Central City Foundation and organizations is essential. It helps bridge that gap between traditional funders and service delivery partners. Working collaboratively with funders at the table means community identified programs, services and solutions are co-developed with funders. This process breaks down the traditional dichotomy between funder and organization and ensures that both parties are engaged in building programs from the outset ensuring mutual investment in their success and outcomes."
Q: What is it that you value most about being a community partner of Central City Foundation?
"I most value the willingness of Central City Foundation to actively collaborate with us and participate in doing the work with community. Knowing that your funder sits at the same table and actively participates in community building changes the nature of the relationship and you know that they actively buy into the work being done and will champion the cause. Support from Central City Foundation has been essential to our success. I'm grateful to work alongside a community partner so willing to give of their time and resources!"